Cayuga Heights Auto Repair
Ridge Road Imports offers auto repair and maintenance services to Cayuga Heights, NY
In 1987, we began providing our customers in Cayuga Heights, NY with professional auto repair and maintenance services. Our well-trained team of professionals is extremely knowledgeable about all different makes and models of vehicles and the repair and maintenance required to get your car in tip-top shape. We believe that it is important that our Cayuga Heights customers understand what repairs we are suggesting and why. At Ridge Road Imports, it is important to us that when you drive away you feel confident in your car or truck.
No one wants to put their car or truck in the shop, but if you must, come to Ridge Road Imports where we put integrity and service first. Call 607-533-4787 to schedule an appointment today.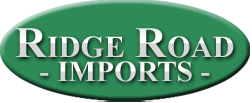 Last Friday, I thought my Fit had a serious battery issue and didn't want to wait until the following week, when I had a appointment for an oil change and have my snow tires put on, to have it checked. Robert told me to come right in, he'd see if I needed a new battery, and bring my snows. It all worked out fine. Where else could I find a mechanic so accommodating? Many thanks!
Garry T.
, 11/10/2019